AMSOIL Dealer in Vacaville, CA.
I'm Travis Breckon, a stocking independent Amsoil dealer based in Vacaville, CA. I have been personally using Amsoil since 1985 and started using Amsoil because of the the commute I used to do. I put approximately 25-30 thousand miles a year on my vehicle and was changing my oil every 3 to 5K. When I started using Amsoil I not only noticed not have to change oil often but my fuel mileage went up by 2-3 miles per gallon. I presently drive a 2007 Tundra that I bought new. I drained the factory Motor Oil, and Differential Oil at approximately 3K and switched to Amsoil 0-30 Signature Series and the Severe Gear Differential to 75-140 Severe Gear. I immediately noticed an increased in fuel mileage in town, up to 15mpg. I have personally gotten over 22 mpg on the freeway when set on cruise and 65 mph.
I also had the Transmission fluid changed out at approximately 30K to Amsoil ATL, which is their fuel Efficient Automtic Transmission Oil. I really noticed a huge difference as the truck shifted more smoothly and seemed to coast further when letter off the gas. I also changed my coolant to Amsoil Anti Freeze and Amsoil. I occasionally tow a 25′ travel trailer, approx 6000 lbs loaded. Many times through the Sierras over Donner Summit which is over 7,000 ft and up White Bird Pass, in Idaho. I have never had a drop in oil pressure, or increase in temperature for engine or transmission when pulling these long uphill grades. My Tundra has over 172k miles and been trouble free since the day I bought it.
If you are a diesel user please check Amsoil diesel oils, filters, and fuel additives. Amsoil 2 cycle products are also superior product and Amsoil has applications to cover all you needs.
Please give me a call if you want to purchase any Amsoil products, have questions about signing up for commercial, retail, dealer or preferred customer accounts. I look forward to serving you.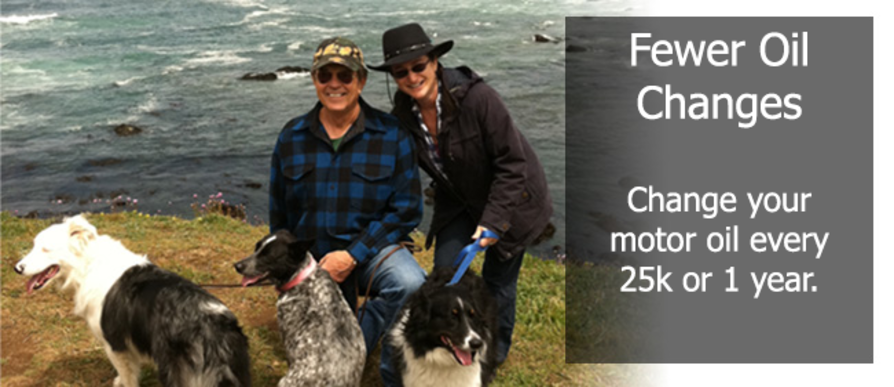 We provide custom lubrication solutions to all types of customers. From families to trucking fleets, we have the products and expertise to help you save time and money. We serve customers across North America, and we are always happy to help any way we can. Contact us for more information on AMSOIL products, for help determining which products you need or to place an order. You can also order online.
Monday-Friday
9:00AM – 5:00 PM
Saturday
10:00AM – 5:00 PM